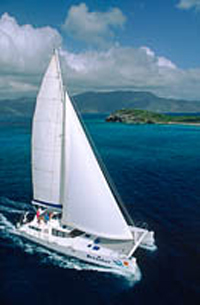 Safety
Safety starts with the crew. We've been doing this our entire lives and we're not young employees hired to captain a boat for a couple years. We've built our own boats from scratch and sailed across the Atlantic Ocean and we've sailed extensively in the Mediterranean Sea. We simply have more experience than any other crew who charters a catamaran in the Caribbean.
We own & sail Breanker, the best catamaran in the Caribbean. Breanker was built in 1991, but we completely retrofit Breanker in 2007-2009 and again in 2018, which has several advantages over "new" boats. First & foremost, we know every aspect of our boat. We designed and refitted the cabins to meet all of our clients needs. Having personally installed all systems (the engines, the generator, the pumps, every pipe, every wire, every hose, etc.), we are intimately familiar with every aspect of our boats, which is a tremendous safety factor.
Classic Finishes
As we mentioned on the "Owners & Crew" page, we have designed and built two classic sailing yachts on which Kristian did all his own carpentry work and Marianne's department was all the finish work. Breanker has a special & unique feel due to the use of a lot of natural wood which gives it a much warmer and cozy feel than many newer boats which use plastic or wood veneer. Be sure to look at the 360 degree views of Breanker to see how the real wood creates the feel of a classic boat.
Cabin Comfort & Air Conditioning
Our years of chartering experience have made it clear to us that the comfort of our guests is one of our highest priorites. Each of our cabins has a queen size bed and en suite head (electric toilet) and own shower with plenty of ventilation from hatches and portholes and also electric fans. Only on rare evenings when the air is still do we feel the need for something more, and for those occasions we installed air conditioning to all the cabins.
Cleanliness
We own this boat and we live on it even in between charters, so we care about it and keep it in immaculate shape. We never ignore "little things" and when you sail with us, you can expect us to check on your cabins each & every day because we want to make sure everything is right for you on our boat, which is our home and yours for the week.
Internet Access
We want you to enjoy your catamaran vacation, but we also recognize that some people can relax more if they are able to periodically check their email. Internet service is available all over the Virgin Islands and we do provide WiFi access on the boat. We do not charge anything extra for this as long as you use the internet connection responsibly.
Tandems
Larger groups, families, friends, smaller businesses can enjoy the individualized attention of crewed chartering by chartering two boats that follow the same itinerary for the week. Both crews work together with the group to plan the itinerary, activities and meals so that all guests get the most out of their vacation time in the BVIs and have ample opportunity to mix, mingle and enjoy activities together.